mohit.art is proud to present a selection of works from Parking Video Library (PVL), Tehran. PVL emerged from the independent platform and project space Parkingallery Projects that artist and curator Amirali Ghasemi ran from 1998 to 2014 in the garage of his parents' house in Tehran. A new generation of artists welcomed this informal space, which led to the accumulation of a considerable number of experimental works, including new media and performance art. The formation of the Limited Access Festival in 2007, which continues today, helped significantly by collecting and showing video works and enriching the Parking Video Library. PVL consists of a broad range of moving image and multimedia works by prominent and emerging artists from Iran and elsewhere. Approximately 350 contemporary Iranian artists have shared one or several works with this archive. More than fifty screening programs have been curated with works archived in the PVL.
Five programs of video art were presented here. The last two programs, Territorial Challenges and Adapting to Invisibility, were accessible on mohit.art April 15-June 19, 2022.
---
Territorial Challenges
It is not easy to consider anything curatorial at this time. Since November 2019, people in Iran have experienced a great deal — and not only them. Perhaps, in this imposed darkness, it can help to imagine a searchlight when investigating the roots of the events that brought us here, the barriers and limitations that keep people and peoples from being themselves, and the hidden conflict areas, geographic or aesthetic, while longing for poetics in places one does and doesn't expect to find them: in public spaces or in-between landscapes. Is it possible to see or even foresee what is brewing on the horizon, or will it never be the same?
Territorial Challenges is curated by Amirali Ghasemi/Parking Video Library. The program was screened on February 5, 2020, as the closing event of the Fragile Frontiers exhibition at YARAT Contemporary Art Space in Baku, Azerbaijan.
---
Gah-Nameh [All the times to say goodbye]
Anahita Hekmat
2017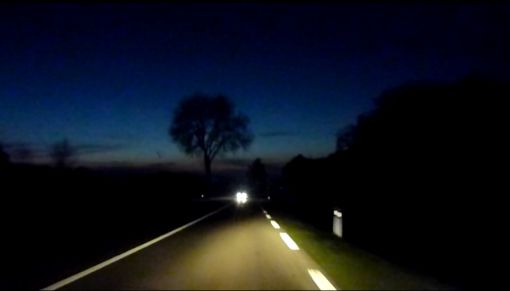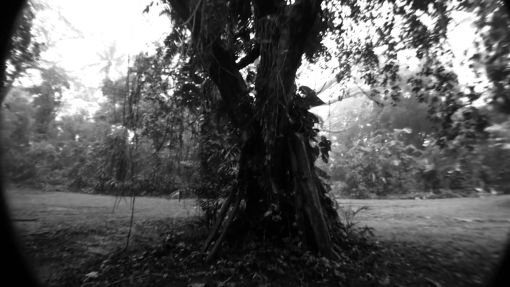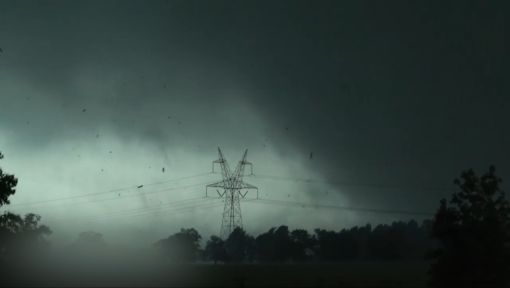 Anahita Hekmat, Gah-Nameh [All the times to say goodbye], 2017. Video, color, sound, 10:00 min. Video stills: courtesy of the artist.
Gah-Nameh [All the times to say goodbye] is a ten-minute video journey that blurs the boundaries of personal and public, poetics and politics. Today, information gleaned via images constantly affects our everyday experiences. Anyone may be a citizen-journalist or filmmaker and tell our collective history from their own point of view. Here, a first-person narration is constructed from the artist's video diaries mixed with storm-chaser videos from YouTube and people's responses to a hurricane's aftermath to create a fictional story of a possible "present." Hekmat's video embodies an experience of being in the world while deconstructing our narrative of the present.
---
My Calm Town
Amirali Mohebbinejad
2008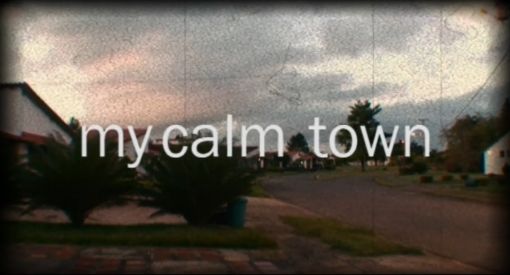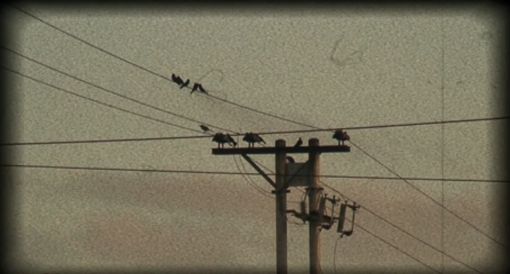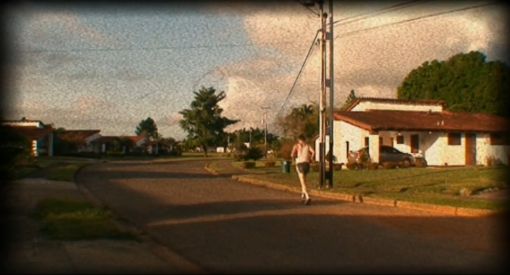 Amirali Mohebbinejad, My Calm Town, 2008. Video, color, sound, 5:30 min. Video stills: courtesy of the artist.
"My Calm Town is a brief, indirect, and ironic video about an unpleasant issue in my country and in many parts of the world. By magnifying the contrast between actual events and the deceiving, beautified, and distorted reality produced by the media, by creating a contradiction between sound and image, I tried to make the audience think more, hear more, and see more, to know more.
This is about reproducing reality and representing it as an original.
This is about not having trust in the media.
This is about the truth." (Amirali Mohebbinejad, 2008)
---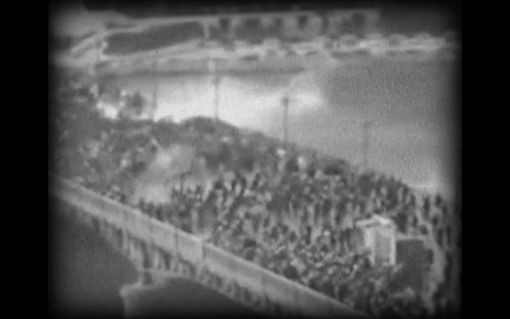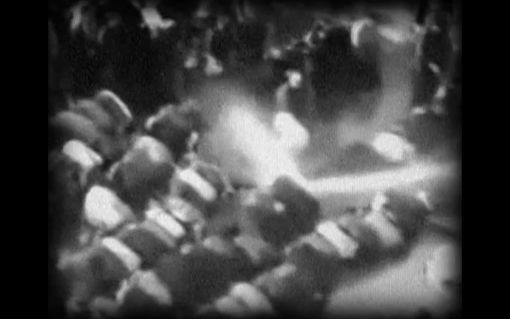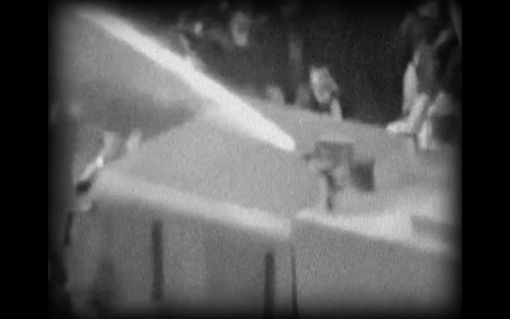 Bahar Samadi, 101, 2012. Video, black and white, sound, 3:33 min. Video stills: courtesy of the artist.
Found footage of the takeover of the Qasr El Nil Bridge in Cairo by demonstrators, following violent confrontations with Hosni Mubarak's security forces, has been refilmed and reedited by Samadi to make the video 101.
---
Life goes on in Tehran
Siavash Naghshbandi
2017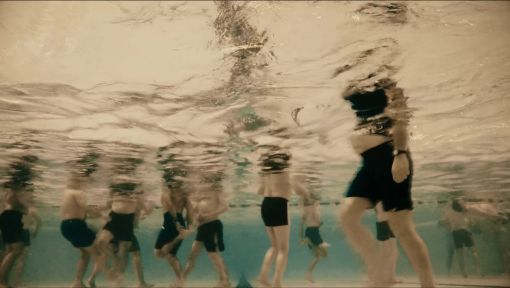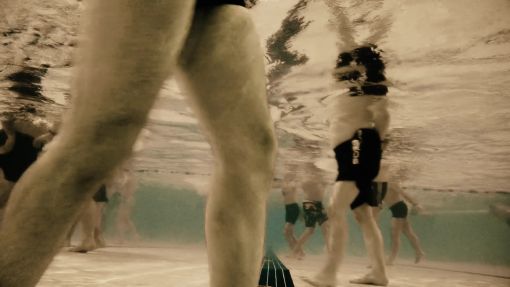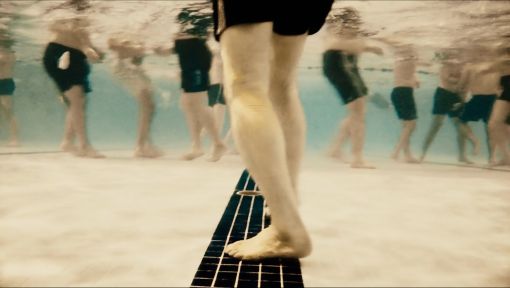 Siavash Naghshbandi, Life goes on in Tehran, 2017. Video, color, sound, 3:31 min. Video stills: courtesy of the artist.
Life goes on in Tehran. Meanwhile, headless people devoid of any individuality wander around in a public pool.
---
Apnea
آپنه
Paliz Khoshdel, with Kasraa Paashaaie
2020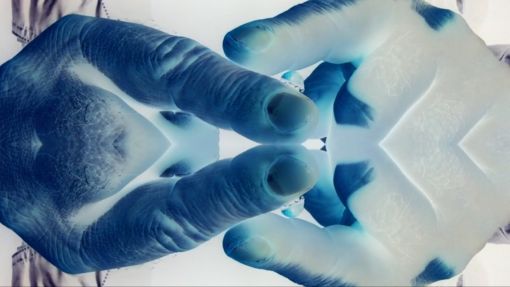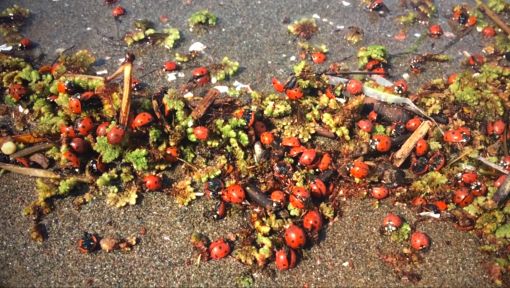 Paliz Khoshdel, with Kasraa Paashaaie, Apnea, 2020. Video, color, sound, 9:00 min. Video stills: courtesy of the artist.
Sleep apnea is a respiratory condition characterized by pauses in breathing during sleep. The word "apnea" is derived from the Greek apnoea, meaning "without breath." Apnea is an experimental video by Paliz Khoshdel, with sound composed by Kasraa Paashaaie.
---
Row
ردیف
Allahyar Najafi
2016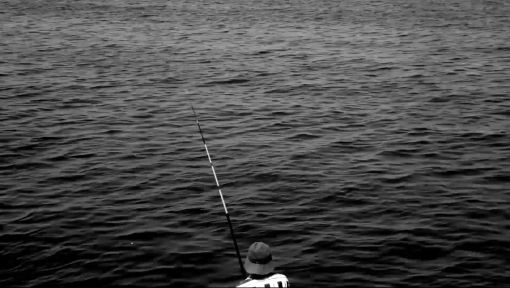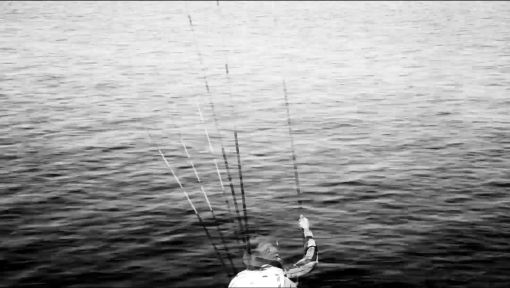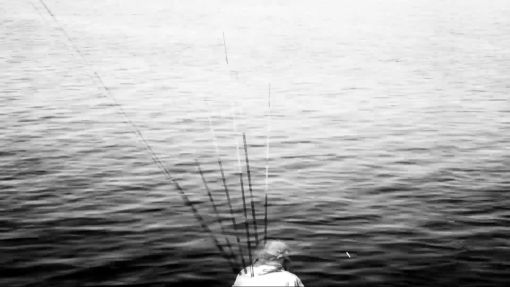 Allahyar Najafi, Row, 2016. Video, black and white, 5:28 min. Video stills: courtesy of the artist.
Music can be both a narrator and an archive of human evolution over time—producing narratives in a different language, which speak of a fixed path in different ways.
---
The Charcoal Alley
کوچه ذغالی
Niyaz Saghari
2020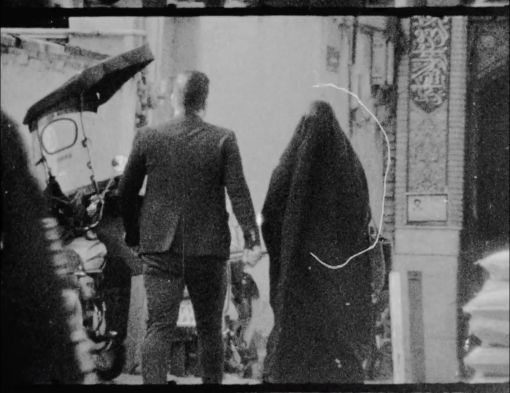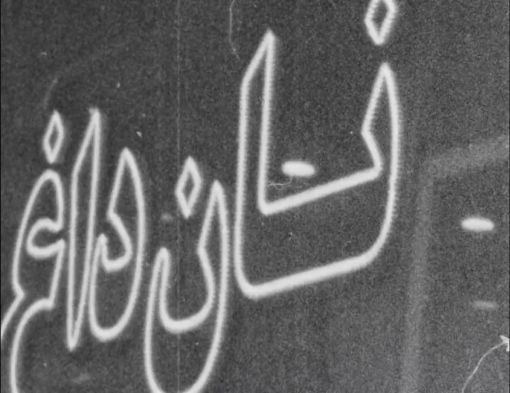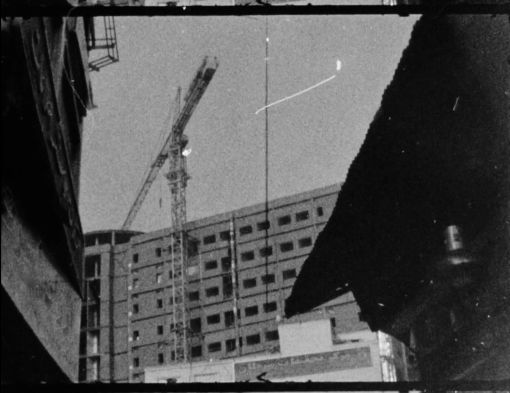 Niyaz Saghari, The Charcoal Alley, 2020. Video, black and white, sound, 6:09 min. Video stills: courtesy of the artist.
Behind the hustle and bustle of shopping malls in Tajrish, a bazaar in the north of Tehran where the old meets the new, there is a street where time seems to have stopped. Here is Charcoal Alley (کوچه ذغالی), with its old-school public bath, second-hand shops filled with bric-a-brac, and only one actual charcoal shop remaining from former days. A huge crane casts its shadow from above, like a giant about to devour the narrow alley. In an audio interview, a shopkeeper predicts the future, describing an image of chaos, protests, and riots. Only a few months pass, and as Saghari is editing the film, his forecast comes true. The sound of absolute chaos from the streets in October 2019 sits right after the shopkeeper's prediction from a few months before. When one shoots, one never knows what might become a reality and what will not.
---
The Veronica
Zeinab Shahidi Marnani
2017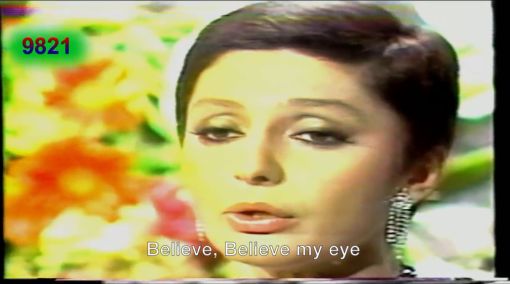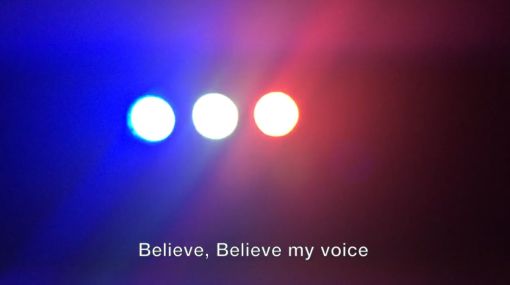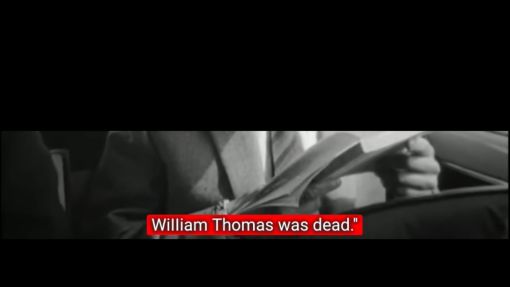 Zeinab Shahidi Marnani, The Veronica, 2017. Video, color, sound, 2:07 min. Video stills: courtesy of the artist.
When Christ fell carrying the cross, Saint Veronica paused him to wipe the blood off his face with her veil, leaving the image of his features miraculously impressed upon the cloth. The Veil of Veronica, known as The Veronica, was able to quench thirst, cure blindness, and even raise the dead. There is no reference to the story of Veronica and her veil in the canonical gospels. Some have identified this event with a woman called Berenike (meaning "bringer of victory"), who was miraculously healed from constant bleeding after she touched Jesus's cloak without his knowledge.
---
Khalvat
خلوت
Roya Keshavarz
2016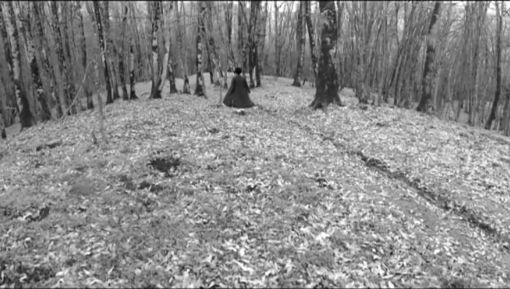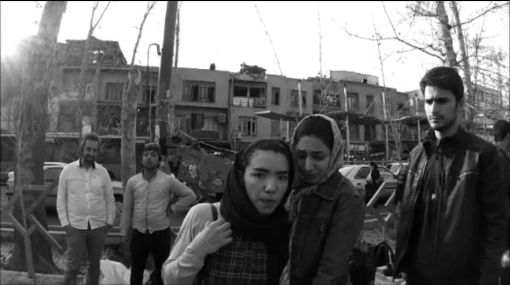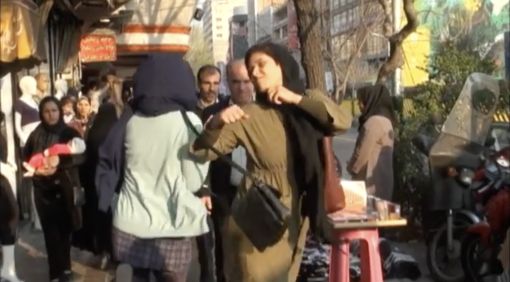 Roya Keshavarz, Khalvat, 2016. Video, black and white and color, sound, 7:37 min. Video stills: courtesy of the artist.
Living in Tehran for more than twenty-five years, the artist has witnessed a considerable difference in the concept of personal space between this city and other, foreign, cities she has visited. Problems around privacy and personal space are prevalent inside the minor structure of society, that is, family. The family has a central place in Iranian culture and, being at the core of society, directly impacts the way people learn to use public space. There is no or not enough respect for others' personal space in this megacity of approximately thirteen million inhabitants. Keshavarz tries to analyze and film the reactions and moods of pedestrians when their personal space is invaded, of people working in a crowded public place when creatively and unexpectedly confronted with dancers. How will the crowd receive the energy passed on by the dancers? How will they share the space?
---
Does the Road Offer a Clue?
Nebras Hoveizavi
2018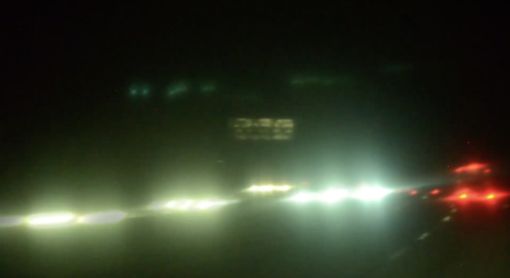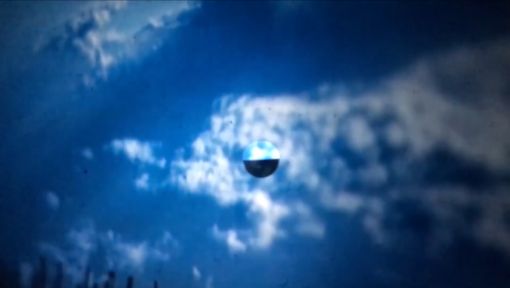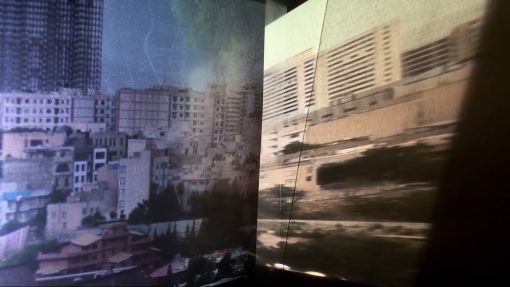 Nebras Hoveizavi, Does the Road Offer a Clue?, 2018. Video, color, sound, 17:17 min. Video stills: courtesy of the artist.
Having passed a desert, the fox reached an untouched plain. Walking along the plain, the fox came across a road. She was neither fatigued nor thirsty. Navigating by instinct was giving her infinite pleasure. She watched the cars passing on the road and asked, "I was wondering which road to take, the right lane or the left one?" Just then, the beam of a car in the left lane elegantly passed through her body and said, "Go north, walk along the left lane." Aimlessly wandering the route, she enjoyed the lights illuminating her body. Suddenly, she heard a horrible sound. Two cars collided before her eyes. She escaped and said, "If I had taken the direction toward the right lane, I wouldn't have witnessed such a collision." The road, under her feet, laughed and said, "I had been waiting for you for a long time." The fox responded, "But I made a choice …" The road said, "And I had foreseen it." The fox asked, "Where am I going next?" The road replied, "You are the one in charge!" The fox exclaimed, "But you know!" The road said, "I know …, but the illusion of making a decision is pleasant!"
---
Contradictory Scene
Mojtaba Saranjampour
2015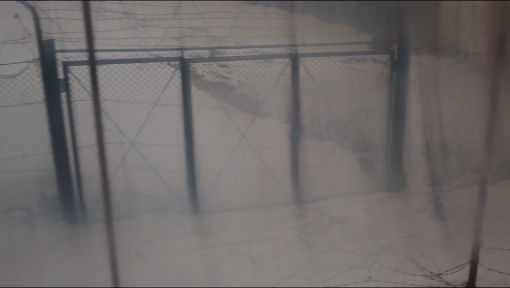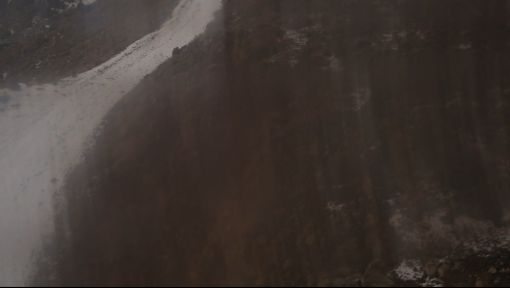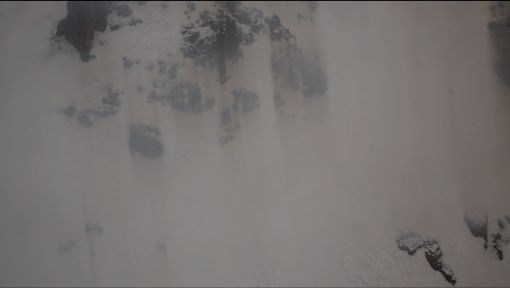 Mojtaba Saranjampour, Contradictory Scene, 2015. Video, color, sound, 2:58 min. Video stills: courtesy of the artist.
"It snows; I step on the white ground. I turn my face to the sky and experience the fear and joy of snowfall simultaneously, a dual sensation that drew me to this project—the simultaneous sensations of two desires meeting, mediated by expired black-and-white negatives. Here you see rocks that have lost their original form over time. There has been a change in the white snow; time has left its mark on the mechanical tools. It is inevitably a kind of change, whether in the body or the soul, color or light. In a word, one may be the truth, and the other may be to test the truth." (Mojtaba Saranjampour, 2015)
---
Notes on Seeing Double
Sanaz Sohrabi
2018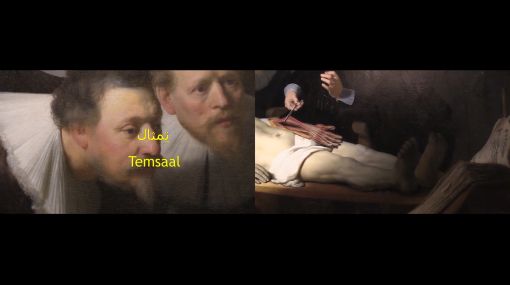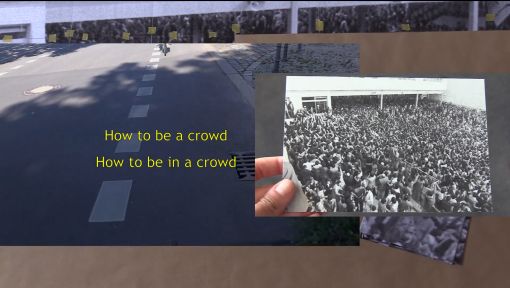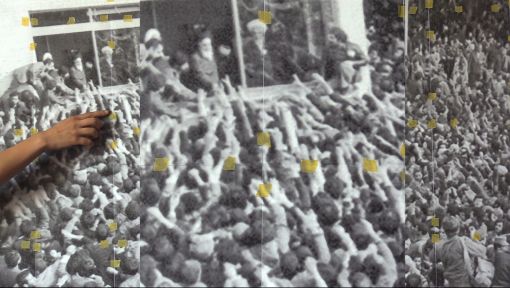 Sanaz Sohrabi, Notes on Seeing Double, 2018. Video, color, sound, 11:10 min. Video stills: courtesy of the artist.
What is the anatomy of a revolution? Masses of bodies with a collective desire? Notes on Seeing Double takes the Farsi figure of speech تمثال (representation) as its point of departure to unpack this question. Through the juxtaposition of a documentary photograph taken in February 1979 in Tehran and a painting by Rembrandt depicting the famous anatomy theater of Amsterdam from 1632, the video analyzes the conditions within different systems of knowledge production. Written and directed as a video essay, the work looks at the threshold of seeing and remembering, a gateway into unpacking the relationship between preexisting images, language, memory, and the ways images are entangled with different visualization processes. Streams of thought are accompanied by sutured images, combining diacritic essayist strategies with prose fiction. Notes on Seeing Double weaves together observational footage with historical images and wavers between being imaginative, fictitious, or real.
---