mohit.art is proud to present a selection of works from the Parking Video Library (PVL), Tehran. PVL emerged from the independent platform and project space Parkingallery Projects that artist and curator Amirali Ghasemi ran from 1998 to 2014 in the garage of his parents' house in Tehran. A new generation of artists welcomed this informal space, which led to the accumulation of a considerable number of experimental works, including new media and performance art. The formation of the Limited Access Festival in 2007, which continues today, helped significantly by collecting and showing video works and enriching the Parking Video Library. PVL consists of a broad range of moving image and multimedia works by prominent and emerging artists from Iran and elsewhere. Approximately 350 contemporary Iranian artists have shared one or several works with this archive. More than fifty screening programs have been curated with works archived in the PVL.
The following videos could be viewed from December 10, 2021 to February 4, 2022 on mohit.art.
---
Monument in Flux
Monument in Flux is a video art program that gathers artists, filmmakers, and video essayists living across the globe, from North America to New Zealand, via Iran. It presents artistic perspectives on monuments that are in a state of constant flux: from the ancient tomb of Cyrus the Great to unsteady contemporary pedestals, from sculptural representations to performances in public space, from the emergence of revolutions to the fading traces of Soviet heritage. Monuments become and are reshaped according to what passes in front of them.
Monument in Flux was curated by Amirali Ghasemi and screened in the frame of the exhibition Ideology Meets Implementation at W139, Amsterdam, from October 13 to November 18, 2017.
---
Don't Envy Me at This Time
Jalaleddin Anvari
2008
Exposing a shell that has remained from our understanding of histories, this work playfully invites us to rethink our identity in the short while, before its bubble bursts.
---
A few years after the Iranian Revolution of 1979, the number of cats drastically increased in Tehran, becoming a particular feature of the city. Dogs, however, are a rare sight. Not so in Cologne, where proud dog owners are everywhere. It seems only logical, then, that East and West should fight like cats and dogs. Rat Race plays with the fluidity of these metaphors. It ironically underlines the cultural differences between the street cats of Tehran and the domesticated dogs of Cologne.
---
The glory, the human, and the mother: a cartography
Sanaz Sohrabi
2017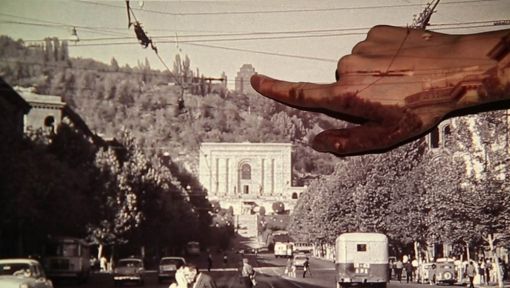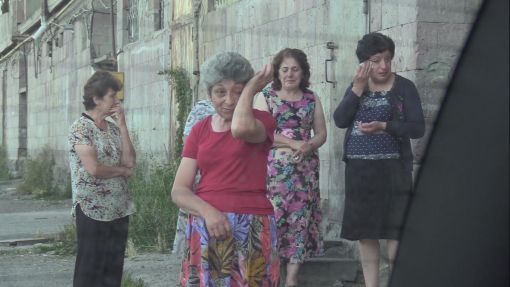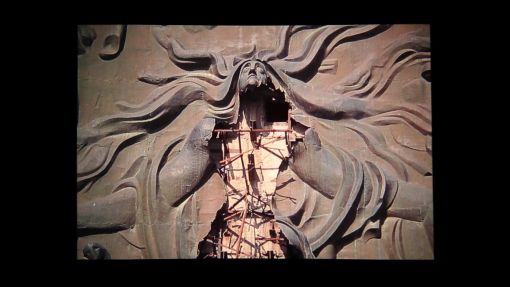 Sanaz Sohrabi, The glory, the human, and the mother: a cartography, 2017. Video, color, sound, 17:35 min. Language: English. Video stills: courtesy of the artist.
Speculations, observations, and wanderings in search of the vestiges of three monuments in Eastern Anatolia, Georgia, and Armenia, which were built during Soviet times and later demolished, altered, or repurposed.
---
The Plasco Building
Studio 51 – Bahar Samadi
2017
The Plasco Building in Tehran, engulfed by fire, collapsed on January 19, 2017. The seventeen-story tower, built in 1962, was an iconic presence on the Tehran skyline. The image used in this video is photographed from a position in which the building is not clearly visible.
---
Flying Through an Inverted Temple
Studio 51 – Navid Salajegheh
2017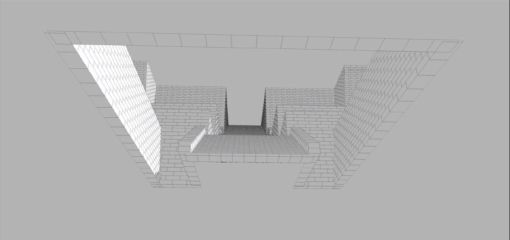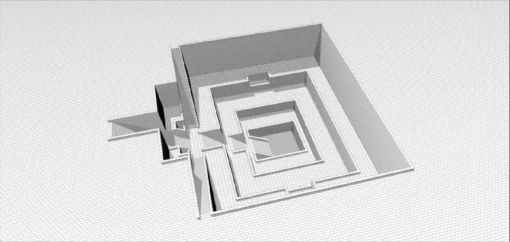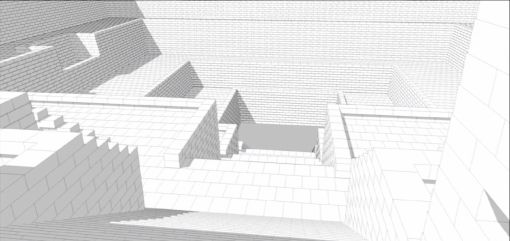 Studio 51 – Navid Salajegheh, Flying through an Inverted Temple, 2017. Video, silent, 3:04 min. Video stills: courtesy of the artist.
The ancient ziggurat expands in volume to represent a transcendental movement. The inverted ziggurat is the reflection of externality, is absolute internality, vacuity, the reflection of a reflection. This volume has been designed by 3D modeling software.
---
Machine Brut(e)
mo H. zareei
2015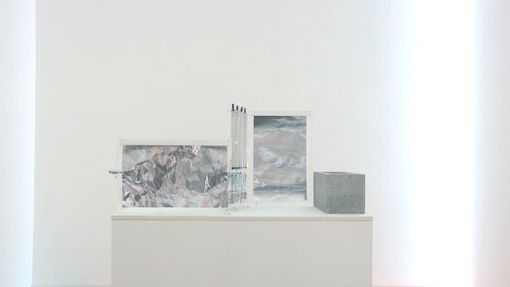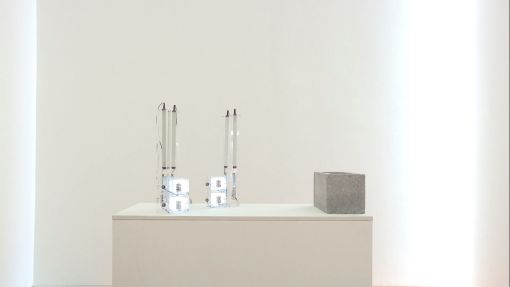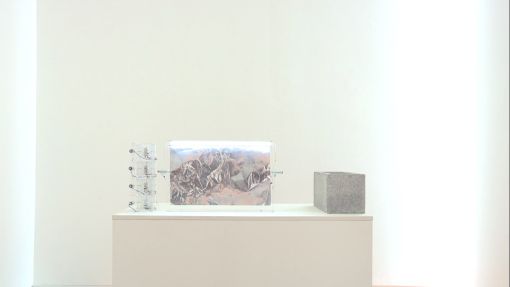 mo H. zareei, machine brut(e), 2015. Video, color, sound, 7:30 min. Video stills: courtesy of the artist.
machine brut(e) is an audio-visual project inspired by Brutalist architecture. The work comprises a collection of ten installation pieces composed for an ensemble of mechatronic sound-sculptures. Strictly metric and pulse-based rhythms are used as a sonic metaphor for the grid-based and geometric structure of Brutalist architecture.
---
The Lady in Red: A Performance
Mohammad Hosseini
2011
Those who can still picture Tehran before the Iranian Revolution might have seen a lady in red at the corner of Ferdowsi Square. She was all in red, everything in red: purse, shoes, socks, skirt, blouse, a bag she carried all the time, and of course, in those last days, a headscarf and stick. Tehranis named her Yaqoot (Ruby). She disappeared in 1983.
---
Variations on an Instrument of Human Anatomy/Abanbaro, Gharan St., Sari-Iran
Payam Mofidi
2017
A statue of power is endlessly duplicated in an unbalanced and unstable condition as a way to mock the "human as a sculpture" and to present a "body without organs" outside the temporal attributes of the video medium.
---
TV 1979
تلویزیون ۵۷
Susan Bayani
2011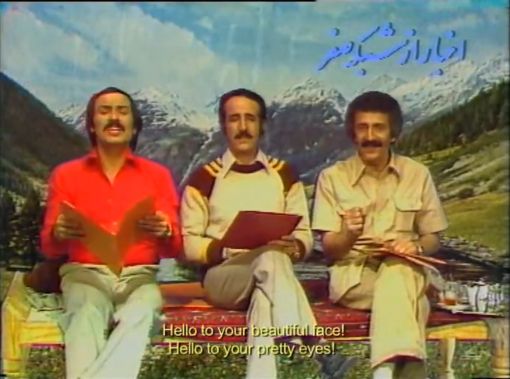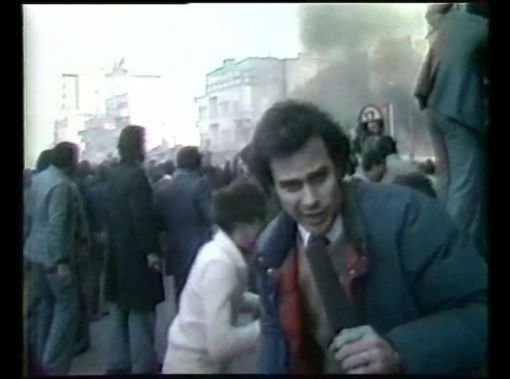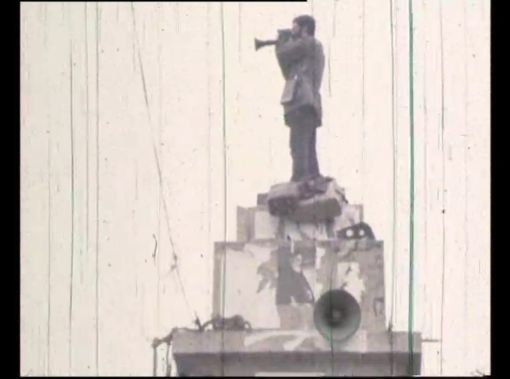 Susan Bayani, TV 1979, 2011. Video, color, sound, 30 min. Language: Farsi with English subtitles. Video stills: courtesy of the artist.
Composed entirely of archive footage, this documentary tells the story of a ninety-nine-day strike by employees at the Iranian state broadcaster. The strike was in response to the imposition of martial law during the 1978–79 Iranian Revolution and the appointment of a Royal Army General to head the National Iranian Radio and Television during the unrest.
---
Mojasameh-haye Tehran (The Statues of Tehran)
Bahman Kiarostami
2008
This film interrogates the function of monuments in today's Tehran, an ideology-ridden postmodern megalopolis afflicted with forgetfulness. It tracks the fate of two important public sculptures: the first, a pioneering work by the then foremost modern sculptor Bahman Mohassess, commissioned by the royal family in the 1970s; the second, a tribute to the Iranian Revolution by Iraj Eskandari, in Enghelab Circus (Revolution Roundabout).
---